Today I officially received my 2011 AT&T Faculty Award for exemplary uses of technology in teaching and learning for the CMS I designed for my WRA 210 class (and my WRA 110 from the fall semester). I've taken a few iPhone photo shots of the award, but they don't really do it justice. It's a beautiful wooden box with the A&T/MSU logo on the lid and the engraved award placard on the inside of the lid. It will now and forever host my USB drives, back-up CDs and tiny device specialized cables, sitting on my desk as a reminder of this thoughtful recognition of my work.
I don't want to over-blow the honor, but I would like to thank a few people: first and foremost, the kind folks at AT&T and MSU VUDAT, Vice Provost David Gift from Libraries, Computing and Technology, Carrie Heeter, Sean Leahy, Jennae Rozeboom, and anyone I might have missed directly related to the awards program (sorry if you were involved and I missed your name). I'd also like to thank Julie Platt for being my "hey, does this work?" partner in crime and clicking on no less than a million links and staring at hundreds of pages, and thanks to our WRAC chairperson, Dr. Kitty Geissler and to my graduate committee, chair Danielle Devoss, Jeff Grabill, Bill Hart-Davidson, and Malea Powell for their continued support of my work, as well as Dr. Laura Julier, the chair of the professional writing program, and Joy Durding and Mike McLeod for their valuable assistance in learning the curriculum for 210 so that I could then make my humble attempts at putting my own stamp on it.
It is always an honor to be recognized for your work, but I'd like to also extend a thank you to my WRA 210 students. It feels wonderful to receive a nod of approval for my course design and attempts to make the class more interactive/to move away from the ANGEL environment into something that might be more relevant to students considering careers in web design, but without my students being willing, and eager, to embrace the technologies I put in front of them this class, and this alternative CMS, could never have succeeded.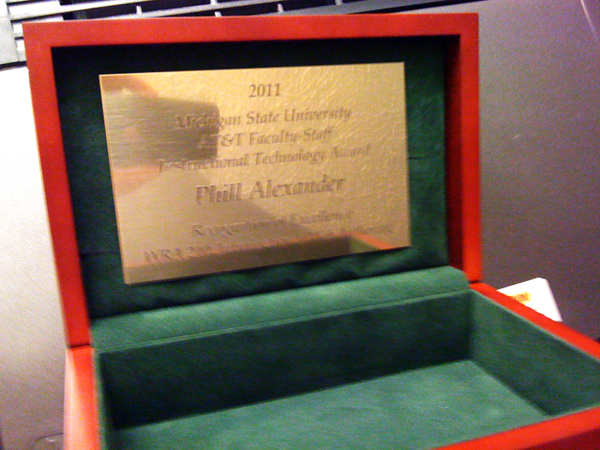 If you're a fellow academic interested in seeing what this CMS is all about, Julie Platt and I will be presenting a workshop on using WordPress and various web apps to construct a CMS at this year's Computers & Writing conference. You should sign up– I promise it'll be fun and informative. Julie's done some awesome things with this in her own right, and together I think we've started the base for something that with any luck could free a number of computers & writing instructors from what one of you once referred to as "The torment of Blackboard."
Again, many, many thanks all around. It's a great day for me, feeling the pride and getting a chance to see the outstanding work being done in other departments. The sciences have us on notice, PW folks– they're doing some totally, totally awesome things with their online and hybrid classes. We should pay attention and see if we can't forge some cross-department bonds. It seemed clear to me while watching the other winning videos that their classes suffer from the same basic issues that ours do in terms of delivery and simulating/exceeding the face-2-face environment, and they have found interesting, unique ways to address distance and space and lack of synchronicity. Amazing work being done!
You can see my video, as well as a photo of the nerd in his natural habitat (yes, that is the CB4 poster I bought Julie for X-mas hanging behind me in the photo), and all the other winning videos, here. Take the time to watch. It's amazing, innovative work!
Humbled and happy,
-Phill