One of the consistent dilemmas since the very beginning of the networked world– even before the world wide web– was that of identity. There was a hope, and even an early belief, that digital space could be democratic. As scholars like Lisa Nakamura have pointed out, there's the ability for one to shed race and gender in cyberspace. Only… not really. Users found rather quickly that it's not that easy to wear a mask as if it were a real face, even in a place where no one can see your face.
The problem that persists once the democratic narrative dissolves is far more interesting and frustrating. As scholars like Cindy and Dickie Selfe have pointed out, as Nakamura points out in her book Digitizing Race, and as myself and many other Native scholars have pointed out, digital space frequently- sadly nearly always– presumes whiteness and often heterosexual masculinity.
For the Native American/American Indian/describe us as you will, this problem is compounded with the phenomenon that Philip Deloria so aptly coined "playing Indian." There are places in digital space where an "Indian" identity is offered, but so often those are based on 1960s and 70s American, Western genre expectations (e.g. headdresses, tomahawks, warrior cultures). Native identity markers become fodder for establishing an "other" who is "a proud warrior," like the Tauren from World of Warcraft.
A Tauren in his hut. 
Of course many of us regardless of our race IRL want a face in digital space, a way for people to see us. And while some choose to attempt to roam the net pretending to be other, my research (and the work of others) has revealed that most people want their online avatar to look like them. As comic scholar Scott McCloud points out:
This principle allows for us to use avatar generators, as we should want to see ourselves in what we create and can, as thus, abstract ourselves significantly. At least in theory. With just a few minutes of work on one of these sites, I was able to make this: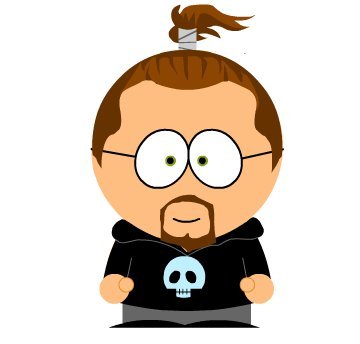 This bears a decent likeness to me. And, to be fair, Native American identity can be difficult to capture visually without stereotypes (for writings on Native American Identity online check the references at the end of this doc). The issue that arises, however, is that often there aren't options to even add that sort of indication of race. Avatars become shaded Caucasians.
The Activity
After having students read and think about identity online, I invite them to create a number of avatars using various online sites. I also invite them to use Photoshop or another editing program to further alter their results, but I ask that they keep the original output of the creation software for discussion and comparison.
Here are the sites I used most recently, though if you Google "avatar creator" you will find a whole host of other options as well.
Sites:
South Park Studios
Pixel Avatars 
Meez 
Super Hero 
Lego Me 
Avatar-ize  
I charge my students with using the avatar creators to make an avatar that looks like them and that "represents" them (so two if they feel those two things are exclusive; most equate the two things). I then have them post their images so everyone can see, and I ask them to reflect on how well they were able to represent/replicate themselves. They quickly find that certain features (large noses, slanted or narrow eyes, etc.) are rarely options. White students usually don't feel terribly limited, but those of any other color find it difficult to make things look the way they'd like.
We then use the discussion of this one aspect of online life to talk about how race is viewed online. And of course Indigenous cultures face the worst erasure (mostly via absence) in online space. By illuminating that, I hope to encourage contribution and involvement.
—
Some Resources
Barnhardt, R. (2002). Domestication of the ivory tower: Institutional adaptation to cultural distance. Anthropology and education quarterly, 33(2), 238-249. Retrieved June 12, 2007 from http://www.ankn.uaf.edu/IEW/WINHEK/IvoryTowerAEQFinal.html
Begel, D. (2001, Producer). "I Am What I Am." Rural Voices Radio. http://www.writingproject.org/Programs/rvcs/radiocsp. University of California: National Writing Project.
Burkhart, B. (2004). What Coyote and Thales can teach us: An outline of American Indian Epistemology. In A. Waters (Ed.) American Indian Thought: Philosophical Essays (pp. 15-26). Malden, MA: Blackwell Publishing.
Cushman, E. (2013). Wampum, Sequoyan, and Story: Decolonizing the Digital
Archive. College English 76(2).
Deloria, V., Jr. (1970). Power, Sovereignty, & Freedom. We Talk, You Listen. New York: Macmillan. (pp. 114-137).
Flower, L., Long, E., & Higgins, L. (2000). Learning to rival. Mahwah, NJ: Lawrence Erlbaum Associates.
Haas, A. (2008). Wampum as Hypertext: An American Indian Intellectual Tradition of Multimedia Theory and Practice. Studies in American Indian Literatures 19(4). 77–100.
Ivanič, R. (1998). Writing and identity: The discoursal construction of identity in academic writing. Philadelphia: John Benjamins.
Kana'iaupuni, S. M. (2004 Dec.). Ka'akālai Kū Kanaka: A call for strength-based approaches from a native Hawaiian perspective. Educational Researcher. 26-32.
Kirkness, V. J. & Barnhardt R. (2001). First Nations and higher education: The four R's –
respect, relevance, reciprocity, responsibility. In Hayoe, R. & Pan, J. (Eds.)
Knowledge across cultures: A contribution to dialogue among civilizations.
Retrieved from http://www.ankn.uaf.edu/IEW/winhec/FourRs2ndEd.html.
Lyons, S. (2000). Rhetorical sovereignty: What do American Indians want from writing? College Composition and Communication, 51(3), 447-468.
Meyer, M. A. (2001b). Our own liberation: reflections on Hawaiian epistemology. The Contemporary Pacific, Spring, 124-148.
Powell, M. (2004). Down by the river, or how Susan La Flesche Piccotte can teach us
about alliance as a practice of survivance. College English 67(1). 38-60.
Powell, M. (2010). Hutton Lectures. Purdue University. https://youtu.be/uchRArrkBwQ
Rousculp, T. (2014). Rhetoric of Respect. Urbana, IL: Conference on College
Composition and Communication/National Council of Teachers of English.
Selfe, C. (2010). Interchanges: Response to Doug Hesse. College Composition and
Communication 61(3), 606-610
Thesen, L. (2001). Modes, literacies and power: A university case study. Language and Education, 15(2&3), 132-145.
Vizenor, G. & Lee, R. (1999). Postindian conversations. Lincoln, NB: University of Nebraska Press.
—
Some useful readings: (not including the things referenced in-text)
Jason Aaron, Scalped (one of several volumes)
Kristin Arola, It's My Revolution: Learning to See the Mixedblood.
Resa Crane Bizarro, Shooting our Last Arrow
Angela Haas, Making Online Spaces More Native to American Indians
Malea Powell, Rhetorics of Survivance
Leslie Marmon Silko, Ceremony
Kade Twist, Four Directions to Making the Internet Indian
Craig Womack, Red on Red