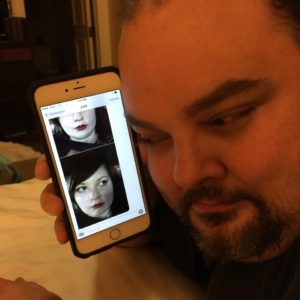 So look where you landed.
I'm Dr. Phillip Michael Alexander. People call me Dr. Phill. My loved ones just call me Phill. My in-game friends call me Ravenos. Nice to meet you.
I am an Assistant Professor at Miami University in Oxford, Ohio. I work for the Armstrong Institute of Interactive Media Studies with people I adore, teaching students game narrative, game design, Esports, streaming video, digital rhetoric, visual rhetoric, design skills, and issues of identity. I also am the co-Director of Miami's Varsity Esports Program, the coordinator for the Miami site of the Global Game Jam, and I am the adviser for a number of student organizations.
I live in Richmond, Indiana, just over the border from Oxford, with my wife Julie, my mother, and our four crazy dogs, photos of which you can likely find  somewhere on this site. We live in a house that looks a little bit like a miniature castle in an awesome old neighborhood. Seriously, the sidewalk to my house looks like some sort of Imperial Landing Darth Vader action.
This website is my attempt at sharing some of myself with you. I've been on the internet just this side of what I think of as forever. As a high school junior, I was using dial-in BBS systems and the shell-based Unix accounts at the local college to connect to people far and wide. I've continued that for the last 25 years. In that time, I've become a student and creator, now a mentor and still a creator.
That's my style. Julie asked me the other day what my style would be called. I decided on "Eclectic NerdDork Fanboy."